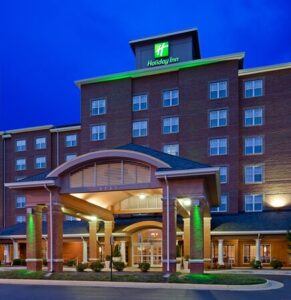 We are so excited to once again partner with the Holiday Inn Chantilly!  See below to reserve your room for only $99.00 per night plus tax with our Big Lick Comic Con  rate.
Thank you for selecting Holiday Inn Chantilly.  A block of rooms has been set aside for your group.  The rate is $99.00 plus 13% tax. This rate does not include breakfast.
*Please note you must enter your stay dates to see the discounted group rate.
 
Method of Reservations:
  
Online Click this link:   Group Booking – Hotel URL Tool IHG

By calling 1-888-269-9583 or Directly with the hotel at 703-815-6060.
 
Please have individuals identify themselves as being with " Big Lick Comic Con"                     " Group Code " LDO" to ensure that they receive the special group rates.
 
Room type is requested and every effort will be made to give you a room with the beds of your choice however, we cannot guarantee bed type.  Hotel is entirely non-smoking.  Check in time is 3:00 pm and check out time is 12:00 noon.  If you arrive earlier than 3:00 pm, please call the hotel to see if rooms are ready.  Quoted rates will be offered, based on availability, to your attendees (1) day before and (1) day after the above dates.
 
The hotel provides complimentary airport shuttle service to and from Dulles Airport. The shuttle pick up is located outside of the bottom level of the airport.   You should use the exit ramp near baggage claim areas 2 & 3 and go to the lower level.   Once you are exiting the airport cross over the taxi lane and you will see a covered wait area.  Please go to area 2H.   Be sure to look for the shuttle with the hotel phone number of 703-815-6060 or our new shuttle with the big "H" logo.   Just make sure the van says Holiday Inn Chantilly Dulles Expo and 703-815-6060.  Our shuttle runs every 30 minutes by request from the airport.  Please call the hotel front desk at 703-815-6060 once you have collected your bags.
 
  
I have listed some websites for you to get more information on the hotel and surrounding areas.
 
www.holidayinn.com/chantillyexpo.  Visit the hotel website for additional information on amenities and surrounding area.
   
www.ihgrewards.com  Go to member benefits to earn points for your stay.  Points can be redeemed at any Intercontinental Hotels brand property and can even be used at other brands.